"Apocalyptic" or some variant is one of the words most commonly used to describe Avengers: Infinity War. (Go ahead and Google it.) But what do we mean when we talk about the movie as apocalyptic? Christian eschatologists who consider Christ's Second Coming to be an actual future event have fallen into two broad camps. Postmillennialism is a brand of Christian eschatology which holds, in MLK's formulation, that the arc of the universe, though long, bends toward justice, and the material realization of God's kingdom is within the grasp of humankind; we can and will, in short, create heaven on earth. Premillennialists hold, by contrast, that the world is headed for an apocalyptic reckoning—a trial by fire—and that all we can do is prepare for that time of trial. There are other eschatological views, of course, and most are quite old, but this dichotomy has been active in American popular culture since about the late nineteenth century.
These two traditions represent different types of Christian temperament, if you'll forgive both my reductionism and my broad generalizations. Postmillennialism makes heroes of builders, whereas premillennialists make heroes of martyrs. In postwar America, for instance, postmillennialists often were those who embraced the American Century and the exceptionalism of the United States, seeing the period of prosperity and world leadership as an opportunity to make the world a better, more just place. At the same time, premillennialists built themselves a cottage industry of prophesying social decline, reading the tea leaves of current events as signs of social collapse ending only in nuclear disaster. Taken to extremes, each temperament has a sort of dark side. Postmillennialists tend toward confidence but sometimes arrogance. Premillennialists tend toward wariness but sometimes hysteria. Both represent different ways to embody hope.
These eschatologies inflect pop cinema, too. I think it fair to say that certain kinds of entertainment embody certain forms of eschatology, especially those which traffic in romantic modes or motifs. Our genre films, in other words. One might regard horror films as premillennialist, since in such films that which you fear almost always turns out to be both real and worse than imagined. You could (and should) perhaps place Dr. Loomis in Halloween (1978), for instance, the same continuum as Howard Beale and Jack van Impe.
By the same token—on that token's flip side—a great many of our superhero films are essentially postmillennialist. Leaning heavily on mythic typologies, heroes make their world a better place, restoring justice and expanding its reach and scope. The protagonists who survive horror films aren't usually those who are full of hope; it's usually those who are prepared or willing to do what it necessary to survive. But the protagonists of superhero films exist to impart and embody hope itself. Crises in superhero films are usually resolved by a contest of might, but that's because in superhero movies, as in popular mythology, right makes might. The recent Justice League film very explicitly invokes the trope that we now need again—and are indeed living in—a new golden age of heroes. These heroes heal the broken world as they heal themselves.
But the Marvel Cinematic Universe guys into this trope far more convincingly than does the DC Universe. How many times has Tony Stark learned to be a better man and as part of a process of self-reformation also saved the rest of us? What is Captain America other than a representation of the struggle to be righteous in a deeply unrighteous world? The bildungsroman—even one featuring middle-aged characters—has been wed to the hero of a thousand faces in nearly every MCU film to date to varying degrees of success. The structure of these movies forbids that they end in defeat for the heroes, because the defeat of the heroes would also cut short their moral development. It would deprive the audience of hope, and the world would be made manifestly uglier and more depraved. While a premillennialist might see this as a necessary and inevitable precondition for eventual redemption, postmillennialists see backsliding as unnecessary and avoidable. Premillennialists don't create superheroes; they build fallout shelters. Postmillennialists fight for denuclearization and write stories about radioactive spiders turning neighborhood kids into good-natured crimefighters.
Again, I'm using these terms analogically, and very loosely at that. My more theologically-literate readers undoubtedly have pulled out so much hair at this point that they've practically scalped themselves. The point I wish to make is simply that apocalypse narratives are almost always about hope, but there are different ways to think about apocalypse, and they operate in very different ways. Not always mutually exclusively, natch, but as I said: this is more a matter of temperament and tone. And I don't think we can understand the failure of Avengers: Infinity War without bearing this in mind.
Aaron Bady wrote one of more flaming hot takes on Infinity War. His most incisive observation is as follows:
There's an extractive, exploitative relationship between the Avengers "team up" movies and the standalone single-hero stories, the same relationship we see between the Infinity Stone MacGuffins and the stories that the various Marvel movies have built around them. The Infinity Stones are the real story, the big picture, the driving force behind their master-narratives in the same way that capital always thinks it's the "job creator." But this is exactly backwards, in exactly the way extractive relations of exploitation tend to condition their beneficiaries to misunderstand what is happening: The Infinity Stones and the "team up" movies are spending the currency whose value was built out of the sweat and blood and human labor of the standalone movies. Infinity War is the moment when profits are extracted from the richness and depth of their stories, skimmed off and collected and sold: "Look, we killed Spider-Man, Black Panther, Bucky, Gamora, Loki!" they say; "Look how it makes you feel!"

But it's a bad movie. It's a bad movie in the way extractive economies are bad stewards of their chains of production; it takes interesting, complex, and very delicate stories and it reduces them to extremely simple versions of themselves, massively degrading the underlying system. They are complex ecosystems, these stories, their development a function of careful nurturing and adept pruning. Infinity War looked at those stories and saw fields, turned the fields into grain, turned the grain into money, and then spent the money. Infinity War learned the lesson of Game of Thrones: people are so desperate to feel something that they will mistake narrative sadism for powerful storytelling.

And it works, the way a strip-mine "works." Spider-Man: Homecoming did interesting stuff with youth and with a youth's relationship to a figure like Tony Stark—and with Tony Stark's burgeoning feelings about playing a "parent" role—and so Infinity War brings that to a climax by making Tony Stark watch a terrified young man die in his arms. Black Panther came out of nowhere to be the biggest movie in the franchise, by far, a character whose narrative was rather uniquely tied to actual world history—and uniquely detached from Marvel's historical timelines—and so Infinity War put him in his place by making his death meaningless, random, and utterly disconnected from everything that his story had been. Gamora's relationship with her father was a mix of complicity, love, and hate, all forced on her against her will as a child; her death was her (inadvertent) assistance to his plan where he kills his darling. And Loki is a character who has died many times and always come back; when Thanos kills him, it means something that he declares, "No resurrections!"

So on and so on: if we feel things with these deaths, it's because they are climaxes to stories that other movies have carefully developed. But only as end-points, only as final withdrawals. Infinity War has nothing to add to what those previous movies say about youth or about complex feelings about parents or about the African diaspora; moreover, because all of its deaths are transparently going to be taken back, it has nothing to say about the finite nature of life. Indeed, even though Thanos's pseudo-Malthusian motivations would seem to be related, on some level, to Tony Stark's discovery of a perpetual energy source in the first MCU movie—and his decision to make it into a weapon, instead—it doesn't develop the problem of societal limit points that it might otherwise seem to be thinking through; other than linking the two characters in their final battle, the fact that Thanos can only understand power in terms of the power to destroy is a fitting climax to Iron Man's story without doing anything interesting to develop it.
Bady leads himself into several tangents in the course of his essay, and I don't endorse all of them wholeheartedly, but the quoted observations above do speak to my own experience of watching Avengers: Infinity War.
Extractive economies as a metaphor for everything that's wrong with Infinity War wouldn't be my first choice, though I think Bady's use of extractive economies would apply just about as well to what I'm about to say. The reason mainstream superhero comics don't work for me is that they are deliberately, calculatedly inconsequential. The big companies maintain the illusion—or, for fans who lack any semblance of self-awareness, perhaps a mass delusion—of continuity of each character's own history as well as the continuity of the history of each one's shared universe. Couple the impossibility of doing this over the course of decades (with anything less than a Jaques Tati-level control over the sheer number of moving parts and revolving door of creative teams for each title) with the marketing imperative of grand events every few years: narrative stunts that utterly upset everything we thought we knew about the status quo. These stunts are always resets or reboots. They themselves are also inevitably reset or rebooted.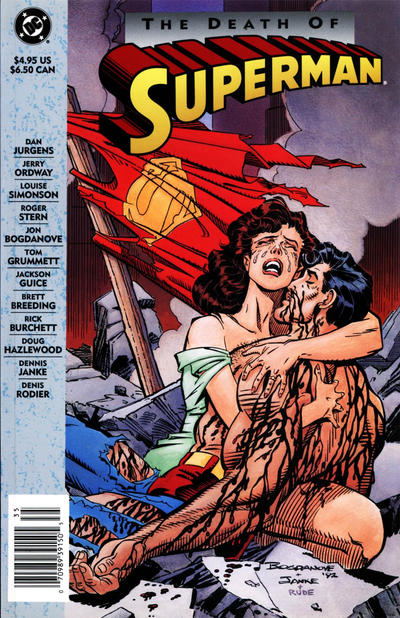 I'm old enough to remember the death of Superman. It made front-page headlines. DC even experimented, for a while, with the novel idea that Superman would be replaced—not with Clark Kent, but with one of four potential heirs to his title. This, of course, could not stand. Clark Kent was eventually reborn. He took his title back. And after some fiddling with his costume and hairstyle, he was plain ol' Superman again, back to doing Superman-y things. And out of the event, DC gained a new villain for its writers to play around with: Doomsday, who peaked a bit early, it must be said. They also gained the characters of the two surviving heirs, one of whom was unfortunate enough to be played by Shaquille O'Neal in a film adaptation. But none of it really mattered in a macro sense. The nature of the DC universe wasn't really altered. The most interesting storyline in modern comics—"A World Without Superman"—did not become the new reality. After a requisite mourning period, the hundreds of characters who comprise the DC universe woke up on day and, market imperatives be praised, no longer had to grapple with the reality of Superman being gone. They could just go back to the way things were.
When I raised this point with a friend of mine recently, he pointed out that continuity and consequence aren't really the point of such events. He pointed out that Peter Parker dying in Tony Stark's arms at the end of Infinity War is a genuinely tragic moment for both characters, and that it's a moment which builds on the established relationship from Civil War and Homecoming. Which is to say, it doesn't matter if Peter's death is undone in the end: what matters is how emotionally traumatic the moment is for Tony and Peter, who must have felt that moment so keenly. A corollary point could be raised for the death of Superman: even though Superman came back from the dead, it doesn't erase the emotional response of the DC universe to his death, especially for characters like Lois Lane or, indeed, Lex Luthor. The point is that Superman was always going to come back; the point is that when he died, everyone else felt it, and that made it meaningful.
All stories—whether in comic books or not—build relationships, and when a character dies, it is always in some ways about the surviving characters. The audience is meant to process the death of a character not only via the audience's relationship to that character, but also through the responses of the other characters in a text. From that perspective, my friend is right. Peter Parker's death is incredibly meaningful for Tony, and we are meant to feel that loss through Tony. The fact that Tony is there for Peter is incredibly meaningful for Peter, and we're meant to feel the poignance through Peter.
But my spirits weren't crushed like Tony's are, and I'm not sure that Peter will even remember that moment once the great retconning of the finale-to-come takes place. That's because I know that this is only the midpoint of the story. I know that the MCU is a world of heroes who save the world. Everything done can be undone. Instead of feeling Tony's loss in the moment, I can only objectively perceive that he's feeling loss. What I actually feel is the supreme confidence that this, too, shall pass, and thus that it is but another obstacle, no different narratively from any other.
The arc of the Marvel Cinematic Universe is long, but it bends toward justice, in other words. This particular arc is substantially longer, and happens to be separated into two films, but it's no different from the arcs in any of the standalone films. So while other fans and critics were totally gobsmacked or heart-wrenched or infuriated by the ending of Infinity War, I found myself simply floating along in a cocoon of postmillennialist complacency. But the death of half the sentient beings in the universe should be narratively different from every other obstacle. The fact that it won't be highlights the shallow postmillennialism of the Avengers series.
Imagine, if you will, a MCU that had the guts to kill off all the characters that are erased at the end of Infinity War. No resurrections (as Thanos declares, improbably, of Loki), no takebacks, no loopholes. Can you imagine a MCU like that? In a universe where literally half the major characters are simply wiped out in the span of five minutes, such a travesty would be genuinely unjust. It would feel like a violation. That is, it would feel utterly wrong—but only if all the films leading up to it failed to build a universe in which things like this happen. Of the Marvel movies so far, really only Thor: Ragnarok actually countenanced the failure of its heroes to save the day. But because the film takes a humorous and callous attitude toward the destruction of Asgard, the ending still feels like a victory. 
Some narrative choices might lead you to think that it's a victory that comes with a cost, but the film doesn't really delve that deeply into what otherwise would be a series of personal cataclysms for the film's hero. Thor's allies from the first two films are killed without any emotional register, and he loses no one else besides Odin, who dies on his own terms anyway. All the Asgardians who die are part of the faceless crowd. (Except Skurge, I guess? Anyway, the film plays his death as a meaningful sacrifice.) And Thor: Ragnarok takes no time to mourn the passing of so many people. Infinity War picks up right from that moment, and utterly obliterates any chance that the MCU will reckon with the death of Asgard or most of its diaspora. It's gutless and cheap, and nobody seems to care except Thor, who is utterly traumatized. 
Now: can you imagine a MCU where every major character who survives the finger-snap of doom will have to live the rest of their lives sharing a trauma like Thor's?
The answer is no. It's obviously no. Because a MCU that would force the original Avengers to live out their lives with that level of psychological damage would be a MCU that would force its audience, too, to live out its life (or at least however long it took until the next reboot) with the permanent and fundamentally unjust deaths of Peter, Bucky, Wanda, T'Challa, Strange, all the Guardians save Rocky, and more. Such a move would surreptitiously end a third of its money-making franchises. Such a move would enrage not just the un-satisfiable nerd demographic (which will hate everything you do no matter what anyway, unless it unrestrainedly loves you for utterly fathomless reasons) but also the general audience whose only investment in Marvel is through the MCU. Ignore, if you can, the corporate suicide of trying to move merchandise over the next decade which is based on characters who died so ignominiously. Think, if nothing else, of the parents who have taken their kids to these movies over the years. Think of the kids who have grown up with these characters. Think of the people for whom the MCU is, as many claim, the equivalent of a modern mythology. Everything about the narrative and market logic of the MCU militates against Infinity War, by itself, being consequential.
If the ending of Infinity War were to matter, it would require the decision-makers at Marvel Studios to commit to the consequences of such a catastrophe. They can't. They won't. Nobody who understands anything about storytelling or marketing would expect them to. The MCU is a fundamentally postmillennialist franchise. The tragedies are always little tragedies—or, at least, the big tragedies are held in narrative abeyance. The real tragedy might be seen, it might even be felt, but it holds no power. Everything comes right in the end. Infinity War is not the end, it's a midpoint. A relative hiccup. Even if you don't believe that, never fear: your faith (or lack thereof) still will be rewarded.
Avengers: Infinity War feels wrong—or refreshing, I guess, depending on how you felt about it—because its structure violates the narrative logic of the MCU. In one very important way, this is what makes Thanos a great villain: perhaps the greatest of the MCU so far. He's a villain whose very presence perverts the narrative logic of the entire franchise. But only for a moment. There is simply no way that the MCU can retain its branding and grapple adequately with the horror of what Thanos has done. Of course, Thanos did what he did to give the MCU's creative team a reason to break its first Avengers trilogy into two films. The choice before Marvel Studios is thus, abstractly, fairly simple. It can embrace the radical upending of its entire brand posited by Infinity War, or it can turn Infinity War's sequel into just another story where the heroes save the day. 
There's no way that it won't be the latter. But that makes Infinity War itself a failure as a standalone film. And as an event that purportedly ties together a dozen-plus other storylines, it will inevitably turn out to be even more inconsequential. This is what makes it a failure as a nexus point or even as the first of a two-parter. Unless Marvel Studios wants to commit to having every MCU film from here on grapple meaningfully with the finger-snap of doom (which, again, it can't and won't), this cliffhanger is utterly meaningless. The narrative logic of the MCU will erase it with its own snap of the fingers. Temperamentally and tonally, Infinity War is out of phase with the MCU, even though it pretends to be the MCU's lodestone.
There's nothing wrong with a film being postmillennialist, but there's everything wrong with a film not comprehending that it's fundamentally postmillennialist. Avengers: Infinity War does not embrace that it is part of a postmillennialist franchise, hence its arrogance in thinking that the finger-snap of doom is consequential. A good postmillennialist story could still grapple meaningfully with loss and violence and seemingly senseless destruction. Black Panther practically nails the perplexities of utopian process. Think of Yondu's sacrifice at the end of Guardians Vol. 2, for instance. Or Pietro Maximoff in Age of Ultron. The tragic fate of Tony's parents and Cap's desire to undo the tragic fate of Bucky—whom he'd thought lost over 60 years ago—give emotional and psychological structure to Civil War. And when beloved dead characters come back—such as Phil Coulson or Groot—even that can be handled well. Groot didn't magically get to come back as his old self; he grows up a new creature into an expanded family. And that moment when Nick Fury explains to Coulson that he warranted the unprecedented experimental procedure because he, too, was an Avenger—it was a moving recognition. These resurrections are fitting and just, and they are earned by the embedded postmillennial narrative logic.
Is there any way, really, to earn in a narratively satisfying way the return of a dozen dead characters in one film? Agents of S.H.I.E.L.D. spent a whole season unpacking Coulson's resurrection. Groot has (re)grown up before our eyes. Bucky has been redeemed over the course of three films. Each of these characters got a narrative arc of his own over the course of multiple films. Can you imagine that most of the characters wiped out in Infinity War will get similar treatment in their standalone films? Are the sequels to Black Panther or Spider-Man really going to take the time to process this catastrophe? Or will the finger-snap of doom be relegated in those sequels to the same kind of trivial function that "The Incident" (read: the climax of the first Avengers) serves in Netflix's Marvel series? Forget their standalone films. I certainly can't imagine that the finger-snapees will return before the midway point of the next Avengers film's running time. Maybe not even until the climax itself, 3/4 of the way through. Maybe Marvel Studios will surprise me. But I've been around comics for a lot longer than the MCU has been around, and there's not much it could do that would.
Moments like the apocalyptic finale of Infinity War are only meaningful when supported by the logic of the entire narrative. They need set-up and follow-through. Even if you think there was meaningful set-up for the semi-genocide at the end of the film, there will be no follow-through. There can't be. Bady notes—correctly, I think—that Infinity War's logic is extractive, not postmillennial. At best, it's premillennialist, but not consciously; not artfully. Which means that the entire Infinity War saga is just some random thing that happened: a cosmic burp that momentarily interrupted these characters' lives and left a lingering acidic aftertaste. And if faith in justice and the triumph of hope is rendered inconsequential in what is supposed to be the most consequential event in the MCU, what does that tell you about the MCU's commitment to the temperament that has made it the premier pop canon of the dawning millennium? ☕︎