Last month, my wife and I finally stopped being outlaws. We had been watching Critical Role on YouTube for several months. Not on Geek and Sundry's official channel mind you. Nope. Some user had thoughtfully put together his own playlist, updating it each Monday with the latest episode. I fully realize that this is the 21st century, and that a vast majority of people don't care if they're illegally pirating stuff. Screw those people. My wife and I spend precious little enough of our money on entertainment, but we figured that if Critical Role had given us nearly 150 hours of joy over the course of the last year, the least we could do is support it in the only way that matters in a marketplace. So we bought a Geek and Sundry Twitch subscription.
Geek and Sundry, of course, is the web-based entertainment company founded by Felicia Day. Capitalizing on the cachet Day earned with The Guild, G&S is home to nerdy shows like Wil Wheaton's Tabletop and Co-Optitude, which Day hosts with her brother, Ryon. (Wife and I are fans of those, too.) G&S is a multiplatform presence, streaming videos from its official website as well as YouTube. Twitch bills itself as "social video for gamers," which is apt enough. The platform includes live video streaming and chat functions, so you can watch your buddies play Halo or Hearthstone and comment on the game with other users besides the gamer in real time. Most of the popular channels are devoted to video gaming. G&S offers a variety of shows that are primarily oriented toward tabletop gaming.
What makes G&S's Twitch experiment so intriguing is that it's live. It seems, in other words, that broadcast media has come full circle. People from my generation and those even younger probably only know about old-time radio from movies like Woody Allen's Radio Days (from what you might call his "peak Farrow" period), or perhaps they listen to shows like WPR's "Old Time Radio Drama" (or whatever else is locally available outside of Wisconsin). While Twitch does allow its users to archive livestreams on their channel pages, the real draw is watching shows that are devised with the affordances and limitations of a live broadcast in mind.
Subscribers from around the world participate in the chat, peppering the hosts with questions, unsolicited advice, and solicited recommendations. While there are some shows designed around the chat function (like the recent trial of The Scavenger), most simply feature a confab of young, charismatic nerds playing games like Rock Band or HeroClix. The genius of Day and Wheaton is that they figured out that there was a fairly sizable niche audience of folks who would enjoy watching young, charismatic nerds play tabletop games. TableTop itself is almost paradigmatic in this regard. Each episode features Wheaton and four celebrity guests playing a different tabletop game, cracking wise about the diegetic absurdities of the games and sublimating their own cutthroat competitiveness into self-reflexive jibes. (Not to mention erecting a mythology around Wheaton's own incredibly bad luck throughout most of the first two seasons. For instance, you now say, "I just Wheatoned," when you roll really badly with your dice.) Unlike TableTop, the games on the Twitch channel unfold in real time, so many (though not all) hosts come from an improv background, flexing those theater muscles to carry two- to three-hour games with breezy insouciance.
That's part of what makes Critical Role so special. As the host and Dungeon Master Matt Mercer opens every episode: "Hello! And welcome to Critical Role, the game where a bunch of us nerdy-ass voice actors sit around and play Dungeons and Dragons!" That's pretty much it, but it explains very little about the show's core appeal. What the description misses is just how gifted these actors are and how expertly they deploy their improv skills to flesh out and inhabit their characters. Some, like Sam Riegel and Marisha Ray, use something very close to their own accent and timbre as they play (respectively) Scanlon, the gnome bard, and Keyleth, the half-elf druid. Others, like Travis Willingham and Orion Acaba, demonstrate their professional range to give an Anglicized working-class growl to (again, respectively) Grog, the goliath barbarian, and upper-class twit brogue to Tiberius, the dragonborn sorcerer. The use of accents and different timbre is a helpful marker in the cast's code-switching, as they flip merrily between their in-game characters and real-life personalities.
That, too, is part of the charm. Like any great improv troupe, the cast revels in surprising each other with totally in-character moments of ribaldry or pathos. One of Willingham's greatest moments in the show, for instance, is when Grog locks himself in an outhouse to have a conversation with his cursed, sentient sword, Cravenedge. Though utterly hilarious, it carries some emotional weight, as one of the other party members, Percy (played with devilish calculation by Taliesin Jaffe), had just recently been delivered from bondage to his own cursed weapon. While Grog doesn't want to pose a danger to his own group, he relishes the power given to him by the sword, and he's no more inclined to sacrifice that power than Percy was, even with his growing suspicions. Similarly, Liam O'Brien and Laura Bailey play twins, Vax and Vex (respectively), whose comic bickering rings solidly true, but whose co-dependence delivers some of the biggest emotional impact in the series, especially when one or the other flutters over death's threshold, instilling the other with uncontrollable panic. All of the characters often make very bad decisions for reasons that make total sense, and it then becomes the job of Vox Machina, their party, to pull their reckless butts out of the fire.
The commitment to character consistency has intersected with the challenges of live broadcast in some interesting ways. Perhaps the most controversial moment in the show's run so far has been the departure of Orion Acaba after episode 27. Independent of the real life drama surrounding the event, the sudden departure was not entirely out of character for the flighty sorcerer, and his official farewell (performed by Mercer) in episode 37 was a somber highlight in the epilogue to the party's first full arc without Tiberius. Another long-running challenge for Critical Role has been the incorporation of its gnomish cleric, Pike. Because Pike's player, Ashley Johnson, pursues a live-action career that calls her away from Los Angeles, where the rest of the cast is based, she's been missing for huge swaths of the show, not least including its initial few episodes. While she worked on Blindspot in New York City, Johnson telecommuted via Skype for several episodes. The distance and technical difficulties for Johnson meant that Pike was forced into a much more reactive role within the party, but her sporadic appearances also had the effect of reminding the cast and their characters how vital she is to the dynamic of Vox Machina. Indeed, one of the finest moments in the show was Johnson's surprise appearance on-set for Episode 22, during a shooting break for Blindspot. The delight of the cast members to be reunited with Johnson was perfectly intertwined with the delight of their characters, who had not been together for four weeks. The necessity of having the players actually be present together physically in one place is something that can be dealt with in a live format, but it's not something that can be "shot around."
When technical difficulties occur in real time for us, the audience, it's also about a thousand times more frustrating than a jam-up on YouTube. After all, when we were watching Critical Role on YouTube, we might have to abandon the video if YouTube was being stupid and come back to it later. That sucked. Then again, we rarely watched an entire episode all at once anyway. Critical Role episodes average three hours, and some have stretched past four. Given our schedules, my wife and I don't usually get home until after 8:30 pm, and we're usually asleep by 11. So while we were watching on YouTube, it became our custom to watch CR in one-hour blocks or so, breaking each episode into three nights' entertainment. Besides prolonging the pleasure of each episode, finishing one also meant that we only had to wait four or five days until the next one.
Now that we try to watch Critical Role on Thursdays, when it airs (7 pm Pacific Time for its cast/crew, 9 pm here in the Midwest), that rhythm is severely disrupted. While it's unusual for us to manage to stay awake until midnight on Thursdays, we usually watch at least two- to two-and-a-half hours as it streams live. That is, unless Twitch poops out on us. Or we poop out from fatigue. Neither of which is the worst thing in the world. And full episodes are uploaded by the next day, so we can pick up where we left off pretty quickly. But Twitch is, in our experience, still rather buggy. And since Critical Role is literally the first regularly-scheduled program that we have made a point to watch at its regularly-scheduled time since we got married,[1] not being able to watch it at that time is so much worse.
Worse, because we usually finish watching each episode on Friday nights. That's awesome, in the sense that we get to finish the latest episode almost immediately afterward, and on our own schedule. But it also means that we have to wait until next week Thursday to see the new episode, and a less-than-perfect experience makes us all the hungrier for a better experience the next time. Which is usually no less than six days away, as opposed to the four or five it normally was when we watched episodes on YouTube.
There's a bigger reason why it's worse, though. After being spoiled for years by services like Netflix, Hulu, and Crunchyroll, which are at their best when you get to marathon episodes in large gulps, waiting for Critical Role each week is practically an exercise in discipline. There's a reason why the fan-sourced tagline for Critical Role, "Is it Thursday yet?" is how Mercer closes each episode. The hunger for each episode is not felt by each fan alone; we feel it together. That time slot on Thursday is special because that particular time slot really means something. It's the only time when all of us—the fans, the film crew, and the cast—get together for the Critical Role experience live. In real time. It happens first and for real only on Thursday. Everything afterward, while still thoroughly enjoyable, is not unique. It's reproduced. That doesn't lessen the enjoyment of the episode, but it also cannot replicate the sense of live connections being forged in the moment.
Fans of Critical Role are called "Critters," and both the fans and players commonly refer to the "Critter community." My wife and I don't participate in the chat (which goes way too fast), the Reddit threads, or on Twitter, where the cast interacts with Critters on a regular basis. Yet I believe we do feel at least tangentially connected to the Critter community. In old message board parlance, we're lurkers. But that sense of participation is something that we're enabled to feel each Thursday night by virtue of the fact that we watch the show live, as it is streamed. The story itself is improvised with each breath and dice roll; the players are putting on a show for us, but they are also putting it on for each other. We, the audience, are simply invited. That invitation to the event itself, though, is always and only for Thursday at 1900 Pacific Time. It is the only time when none of us, collectively, knows what will happen next, and it is the only time when all of us, collectively, get to see what happens next. It is the only time when fear that something could go critically wrong is held perfectly in tension with the sincere hope that everything turns out all right. We, the viewers and players, are bound together in time to each moment.
There is something utopian,[2] I think, in the voluntary discipline of this ritual. Ritual discipline is something I don't think I have appreciated enough in my life. It is, to be sure, qualitatively different from weekly worship services. It is also qualitatively different from live broadcasts of sports competitions, like football games. While I appreciate worship services far more deeply than sports competitions, I do acknowledge that, much like live artistic performances, there is something necessary to the human experience for events that technically only occur once—here, now, for those of us present—but which are ritually repeated at set times. These things give meaningful shape to our experience of time and space, and the most meaningful of these rituals take narrative form.
One of the great lies told about worship services is that it's the same old crap every Sunday. In one sense, that's true. Liturgies are cyclical, and they draw upon the same source material week after week, year after year, century after century. Yet. With each week, year, century, millennium, this circumscribed time with its own circumscribed set of conventions is made new by the fact that those present—here, now—are never the same. We are always older. Always slightly different. Always experiencing this same time in a new way, filtered by our passage through time. We die. Others take our place. They are not us, but we are them. We are made new by our participation in the ritual, by experiencing collectively a totally unique event that nevertheless replicates a set structure at periodic intervals throughout our lives. The narrative structure of these rituals is what gives narrative structure to our own lives.
Like any conventions, though, the governance of our life-narrative is not totally beholden to dogmatic minutiae. There is room for improvisation and surprise. These are also necessary. There is a certain delight, or perhaps catharsis, that can only be had by bonding together with others in the surprises that unfold themselves within the conventions of ritual. That's why it's healthy when someone farts loudly in church. That's why it's shocking when a pro ballplayer suffers a career-ending injury on the field. That's why we know when stand-up comic tells us the truth. Are these things always delightful? Cathartic? Perhaps there are better words. Joy and awe. Rituals are not meant to be dry, empty obligations, but celebrations of being alive, and they are meant to inspire gratitude that we are alive to recognize meaning in this moment: here, now, together.
Rituals build communities, and communities thrive on ritual. That is true for individuals, families, villages, nations. It's true that my wife and I simply don't have the wherewithal at present to be active in the online Critter community. For now, though, we have made a commitment of time and treasure to experience Critical Role as it streams each week. It is something we cannot pilfer or reproduce and retain quite the same meaning. In finally subscribing to one of our favorite shows, we have finally begun to participate, however marginally, in a ritual that makes the lives of thousands, una communitas sine finibus, just that much more vibrant.☕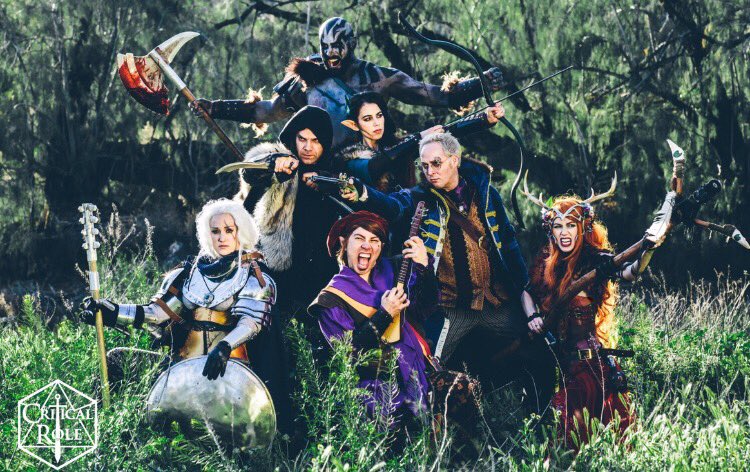 __________
[1] I don't count Doctor Who, which we typically get from Amazon the day after each episode airs. That's pretty close, but not really the same thing as watching it as it's broadcast.
[2] I've written very critically about utopia in the past. I've changed my previous position on utopianism about 165 degrees. Someday, perhaps, I may elaborate. Suffice it to say that I think utopian hope and utopian process are necessary components of any thriving community. I agree with Ernst Bloch that anti-utopianism tends to stifle positive social change; I disagree with any utopian theorist who views the shoring up of inherited traditions as inherently regressive, weak utopianism or as anti-utopian.