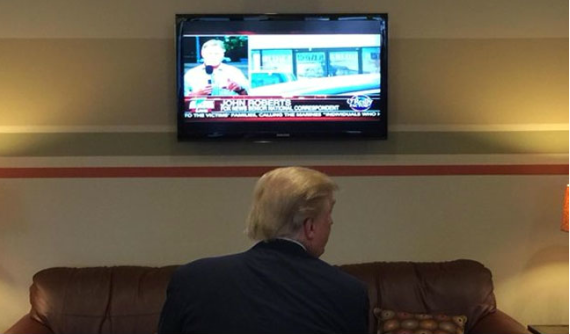 Hitler also maintained a keen interest in the weekly newsreels or Wochenschau throughout the war period, at least up until 1944. No newsreel could be released without having been viewed and, if necessary, altered by Hitler. A copy of the Wochenschau, with a typescript of the text that was to serve as voiceover, was sent regularly to Hitler's Adjutants Office. Frustratingly, next to no record survives of what he changed, or added. One thing is clear: Hitler's scrutiny of the newsreels and military documentaries, as well as his earlier commissioning of Riefenstahl's Nuremberg rally films, reflect a preoccupation with the representation of his image. Hitler was strongly media-conscious, powerfully aware of the capacity of film and newsreel to project his chosen view of reality and of himself. It is well known that, as the war wore on, Hitler's public appearances became rarer and rarer. Just as significant was his withdrawal from the newsreels. His physical debility, probably brought on by Parkinson's disease, was now hard to conceal. Equally hard to deny was the likely outcome of the war. Given that he could no longer be represented as he wanted to be, he opted not to be represented much at all. Goebbels tried desperately to persuade Hitler to show himself more often, in public and in the newsreels. Hitler largely refused, feeding rumours about his ill health. In a sense, that Hitler absented himself from the newsreels was already a concession that the war was lost.
–Bill Niven, "Adolf Hitler, Film Fanatic"
This article in History Today reminded me of an article my friend Kevin had written more than a decade ago for a little magazine published by some fellow classmates of ours. His argument, if I recall correctly, had been that Hitler was, in essence, perhaps the most significant filmmaker of the twentieth century. His attention to detail, the singularity of his vision, and his commitment to marshaling the resources of the German state to realize it all contributed to his oeuvre being one of the most efficacious in the history of cinema. Which is to say, it mobilized political evil on a scale that was and remains, I suspect, unprecedented. Put another way: the compelling horror of the Nazi regime would be unimaginable without cinema. And I would argue that that is true both of the propaganda ministry and of our historical memory of the regime's atrocities.
This was something Walter Benjamin tried to get at in his classic essay, "Art in the Age of Its Mechanical Reproducibility." And I think these lessons are as relevant as ever in an age where flash mobs of protesters are organized, convened, and filmed with dissemination in mind. Not to mention that the president of the United States cares more about himself and his image than he does anything else in the world.
Kevin's argument (again, if I recall correctly) was essentially auteurist. Though Hitler as artist displaced directors, producers, and scriptwriters — typically the ones ascribed signatory stature in auteurist theory — I think found the argument to be more or less persuasive. Something I've been thinking about is whether anything other than a Marxist theory of film can account for authorship in a networked society. What I mean is this: let's say that there's a Trumpist kind of media representation. Donald Trump is actually pretty good at managing his image, loathsome though it is to many of us. But he's not, properly speaking, a filmmaker. Not even in the stretched-thin way that Kevin applied it to Hitler. He's not hands-on with all the representation the way Hitler was. But he is currently the focal point of a whole mode of representing social reality that is common parlance to the Trumpist conservative movement. Dinesh D'Souza keeps making movies, but he's just one part of this. There's also Fox News. There's the legion of Internet trolls. And then there are the friendly media outlets — such as those owned by Sinclair — which also push a pro-Trump line.
(Mind you, I'm using Trumpism as an example because it's easy-to-hand. Feel free to supply your own counter-examples as ballast if you feel the need. Whatever it is I'm fumbling toward is not, in my mind, an explicitly partisan thing.)
The most important thing, I think, is to bear in mind the dialectical relationship between Trump, the institutional media, and social media. (I guess a better term might be "trialectical," but not in the way Lefebvre meant.) To reiterate, there's no centralized coordination going on here. Not that I'm aware of, anyway. What does it mean to aestheticize politics in this era, where art's mechanical reproducibility is effectively democratized? I don't really know, and I don't have the energy to speculate further on that now. But I'm going to keep thinking about these questions: without a central figure, does aestheticized politics lose its efficacy? And is the state any longer necessary as a controlling structure for focusing such efforts? Does the wide availability of digital film equipment and social media comprise a pendulum swing toward politicized aesthetics — and if so, has it turned out better or worse than Benjamin could possibly have imagined?